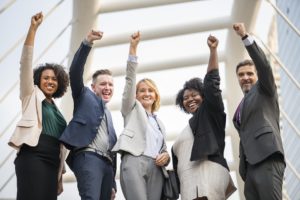 Being featured on a power list has often been a measure of success for many executives. It is indicative of becoming credible in their fields and being recognized and respected from industry peers. In this article we take a look at three individuals who have recently been featured on power lists throughout the nation.
First, Michellene Davis who was included on the ROI Influencers Power List 2019: Government Affairs. This list – established by Prospect Publishing Group – has few categories including: education, finance, healthcare and law. Davis is regarded as:
"a powerhouse in New Jersey, whether it is on politics, health care or women and POC empowerment…No one can question her natural talent. She can make calls and lobby at the local, state and federal level with ease, all thanks to her networking prowess."
Second, Nita Lowey who was featured on The 2019 New York City Power 100 which seeks out "the people with the most influence over the city." As Chairwoman of the House Appropriations Committee, Lowey found a place on the list as she was deemed:
"the most powerful woman in the country, but Rep. Nita Lowey is close behind. The Westchester County Democrat is the first woman to head the House Appropriations Committee, putting her in the middle of funding battles over Planned Parenthood, safety net programs and border security. After helping avoid a second federal government shutdown, she is now on the front lines fighting the president's emergency declaration to fund a border wall."
Third, Nadia Boujarwah, who was included in The 2019 NYC Tech Influencers "the people driving New York tech." As co-founder of plus size fashion company DIA&Co, Kuwait native Boujarwah
"has been able to successfully scale the business, serving over four million customers with a team that has grown to over four-hundred employees. With Boujarwah at the helm, the company has raised a total of $90M in funding and is backed by Union Square Ventures, Sequoia Capital, Next View Ventures, and Maveron. Outside of the lucrative business, at its heart, Dia&Co is a purpose-driven company to make retail more inclusive, allowing millions to have a healthy body image through style."
Being included in a power list is a great way to reach the next level in one's industry. It's also a huge compliment to be recognized in this manner.