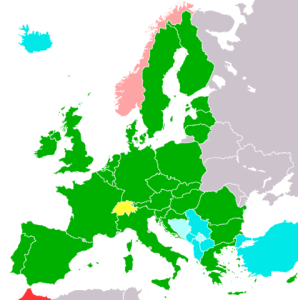 Taken as a single country, the US economy is still the world's biggest, with China coming in a very close second. However, as a single entity, the countries comprising the European Union actually surpass the size of the US economy, making it a key player in the world's marketplace.
One economist, Joseph P. Quinlan, the chief market strategist for US Trust, pointed out just how important the EU is to the rest of the world.
"In nominal U.S. dollar terms, the European Union (plus Norway, Switzerland, Iceland) accounted for 25.4% of world output in 2014 according to data from the International Monetary Fund.  That was greater than America's share (22.5%) and well in excess of China's—13.4%," said Quinlan.
The EU consumer is also doing well. The EU and several periphery countries accounted for 28.5 percent of all consumer spending in 2014. Compare that figure with 26.6 percent spent by US consumers and 15.6 percent spent by the combined emerging economies of Russia, India, Brazil, and China. Spending like that attracts companies to the region.
"Gaining access to wealthy consumers is among the primary reasons that US companies venture overseas, and hence the continued attraction of Europe to US firms," wrote Quinlan.
The conclusion for Quinlan, and his message to the rest of the world: Although Greece might not have a direct impact on the US or world economies, the impact Greece's troubles have on the EU should be of great concern to the rest of the world.