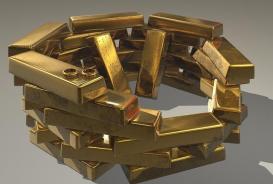 After eight days of diminishing value gold took a tiny step back up after reaching almost to its lowest price since August. Gold's drop in price, down to $1,084.90 was prompted by two factors; an increase in non-farm jobs, and the expectation that December will be the month that the Feds decide the US economy is ready for an interest rate hike.
Data showed that the non-farm sector added 271,000 jobs in October, the largest number in 2015. The result of that surge is the lowest unemployment rate in 7 ½ years, down to only 5 percent. These numbers surpassed the predictions of economists who said that only 180,000 jobs would be added.
In addition, investors are more than ready to see the Feds finally increase interest rates for the first time in almost ten years.
"Further downwards pressure is expected on the precious complex in the lead up to the December FOMC meeting,"
said Sam Laughlin, a trader for the MKS Group, referring to the Federal Open Market Committee of the Feds where the decision whether to increase interest rates will take place. He added that gold could still see a bit of a price recovery approaching $1,100.