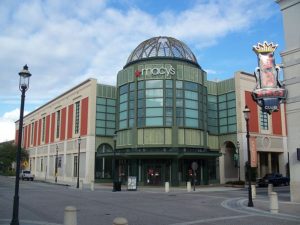 As consumers continue to make the switch from brick and mortar shopping to on-line, old fashioned stores who can't compete, will be forced to close, analysts say.
"If you are weaker player, it's going to be a very tough 2017 for you, " said RJ Hottovy, a consumer equity strategist for Morningstar.
Consumers are heading out of the house to shop in malls less and less, choosing the comfort of their laptops and desktops to bring home the goods. Hottovy is expecting to see retail establishments filing for bankruptcy while many shops shutter their outlets.
Huge retailers such as Macy's, Kohl's, Walmart and Sears have all had to close hundreds of stores over the past few years to counter the rise of e-commerce and lack of buyers in the stores.
But the closures will continue. The new year is a traditional time for companies to announce their plans to close stores. Almost half of all yearly store closings were announced during the first quarter of the year they closed, since 2010. Macy's has already announced it will be closing almost 100 stores in 2017, about 15 percent of their total. Sears will be pulling the plug on 30 Sears and Kmart shops before April, with additional closures to be announced soon. CVS has said it will be closing about 70 of its fleet of stores.
Less severe, but also a result of loss of business, is the downsizing of existing locations.
"As leases come up, you're going to see a gradual rotation into smaller-footprint stores," Hottovy said.
Nevertheless, despite all the recent closures, the US still has far too many stores. So expect to see a correction in the coming months and years.