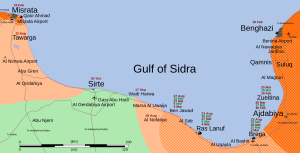 Fear of oil supply disruptions as a result of Libyan violence sent the price of US crude oil up by more than one dollar on Monday in Asian trade. In a reverse of the steady fall in oil prices of late, US crude just barely touched $55.74, up $1.01 on Monday after closing down $1.11 in slow trade on Friday.
Fighters loyal to the recognized government of Libya, an OPEC state, retaliated with air strikes on the western city of Misrata on Sunday. The bombing was in response to a missile attack by rebels on the port city of Es Sider, one of the largest export terminals in Libya. The attack set fire to the terminal and destroyed more than 800,000 barrels of oil, about two days of production. The fire also threatened additional storage tanks. The National Oil Corporation of Libya, the source for the information, stated that the total oil production from Libya is about 385,000 barrels per day.
"Libya, and all the other problems, warrants some kind of risk premium," said Jonathan Barratt, chief investment officer at Sydney's Ayers Alliance.
"Oil is at a level where people are happy to build in a risk premium," he added.