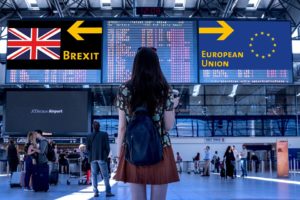 Brexit is apparently impacting everything and everyone. Are they in? Are they out? Every day it's a different story and the British pound has recently plummeted to a two-year low as a result of this hokey-pokey dance.
According to a recent news article:
"Sterling plunged to 28-month lows and headed for its biggest daily fall against the $US since November as investors scrambled to factor in the risk of a no-deal Brexit and the possibility of a snap election. A still-deeper fall in sterling remains on the cards; all metrics show that a disorderly British exit from the European Union is far from being fully priced in."
The author then claims that even though the majority of investors have – until this point – bet on a "last-minute agreement to avert a hard Brexit" with the election of Boris Johnson, that "expectation is now receding." According to Head of Global Economics and Strategy at Millennium Global Investments, Claire Dissaux:
"There is a realisation the market had not fully priced the increased chances of a no-deal Brexit. The appointment of the cabinet (at the end of last week) showed that the default policy of this government is to leave with no deal."
In addition, the National Audit Office (official spending watchdog of the UK) has already warned what the repercussions of remaining would do, arguing that it would result in a reduction of the economy by 2 percent next year and also catalyze a recession.
But what about the hedge funds?  according to David Cameron's government advisor Baron O'Neill, those in the industry are viewing remaining out of Europe as a "chance to make some money."  Just the figures being published are political since he believes they are "deliberately promoting the no-deal Brexit risk" to the benefit of traders.  He added: 
"I'm pretty sure that a lot of big foreign exchange and hedge fund type people are… probably looking at what's being said coming out the UK as almost close to a free lunch. The world I was in a lot of them are saying thank goodness for Boris, he's giving us a chance to make some money."