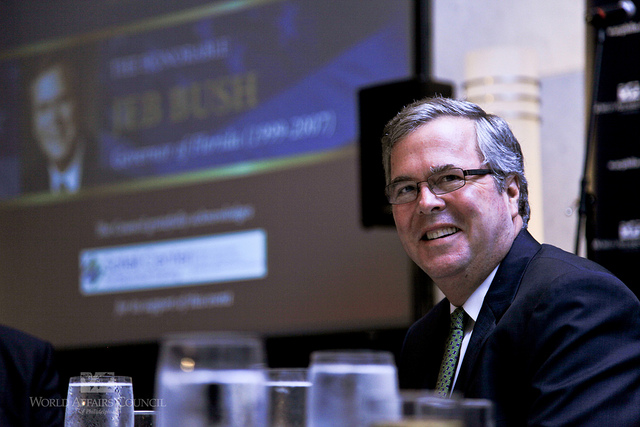 It's certainly no easy task presenting the people of America with a realistic economic campaign when running for government. Jeb Bush is no stranger to this challenge. There has thus been speculation on which economic experts may be guiding him for the 2016 campaign. One of these, Jim Donovan Goldman Sachs Managing Director, is said to have been included in Jeb Bush's "inner circle" of advisers.
Donovan and others like him (such as Justin Muzinich and Bill Simon) may not be his official financial advisers, but if they are going in the same direction, they might be. For example, Bush's spokeswoman Kristy Campbell said that Bush is "committed to promoting polices that will address the opportunity gap and restore the right to rise for all Americans." James Donovan, Goldman Sachs, is a National Council co-chair of the American Enterprise Institute which is likewise dedicated to preserving and strengthening the foundations of a free society—limited government, competitive private enterprise, vital cultural and political institutions, and vigilant defense." The organization seeks to "help establish economic policy and strategies." In addition, Donovan handled Romney's personal investments in 2012. So it might make sense.
Moving back to the 2016 elections, it seems that what is really worrying Americans these days is not so much high taxes but the fact that technology is going to replace their skills in the future and put them out of a job. Therefore what will be important for Bush's campaign is to show – realistically – how to avenge that fear. And he's doing it. In a speech he delivered in Detroit a couple of months ago Bush asked: "How do we restore America's faith in the moral promise of our great nation that any child born today can reach further than their parents? This is an urgent issue: Far too many Americans live on the edge of economic ruin. And many more feel like they're struck in place, working longer and harder, even as they're losing ground."
It is these issues that advisers – official or unofficial – need to find potential solutions for. Once these matters are covered, next year Bush may have a real chance of convincing the US population that he can offer an economic environment that is both realistic and worth living in.