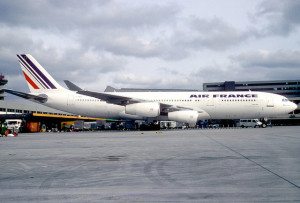 After an anonymous caller informed Maryland state police of a bomb threat on an Air France flight en route from Paris to New York, the US Air Force sent out two F-15 fighter jets to escort the plain to a safe landing at New York's JFK airport.
The call was made in the United States to a state police barracks in Maryland a little bit after 6:30 am (10:30 GMT), according to police spokesman Greg Shipley. The FBI was then immediately contacted.
The flight was Air France 022. Two F-15 jets joined the plane for the last leg of the trip to JFK on Monday, where it landed safely. Later the plane was taken to a designated area at the airport and was thoroughly searched.
Media outlets in the US reported that the threat was considered non-credible.